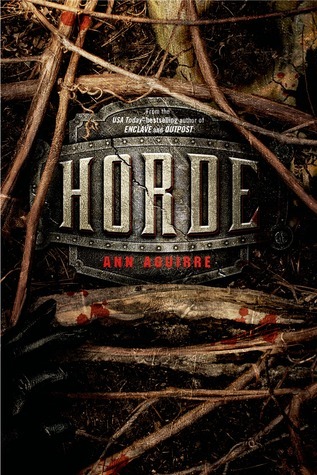 Horde
by Ann Aguirre


5 of 5 stars
The horde is coming.

Salvation is surrounded, monsters at the gates, and this time, they're not going away. When Deuce, Fade, Stalker and Tegan set out, the odds are against them. But the odds have been stacked against Deuce from the moment she was born. She might not be a Huntress anymore, but she doesn't run. With her knives in hand and her companions at her side, she will not falter, whether fighting for her life or Fade's love.

Ahead, the battle of a lifetime awaits. Freaks are everywhere, attacking settlements, setting up scouts, perimeters, and patrols. There hasn't been a war like this in centuries, and humans have forgotten how to stand and fight. Unless Deuce can lead them.

This time, however, more than the fate of a single enclave or outpost hangs in the balance. This time, Deuce carries the banner for the survival of all humanity.
Main Characters
Deuce: Part of a tribe of survivors living underground in subway tunnels. She is a Huntress, 15 years old, and considered an adult since everyone dies in their early 20s. A very skilled fighter.
Fade: Born topside and came underground after the death of his father. He became nearly feral, trying to survive alone for years. Hunters found him and brought him to the Enclave.
Review
While I was waiting for this book to come out, I couldn't stop thinking about it. I kept playing it in my head, trying to figure out how it could possibly end. The conclusion I came to was that there was no way for it to end well and I was going to be sadly disappointed. To be honest, the third book of a trilogy usually sucks.
I am SO GLAD I was wrong. This book was perfection!
Deuce really came into her own. Don't worry, her personality didn't change completely, she just grew up and settled into her skin. It was good for the soul to read about this 16 year old girl kicking everybody's ass. I mean, come on, how could you not enjoy that?
"I so enjoy it when people assume I'm stupid."
"Not that, just very focused on killing."
I don't want to write too much because I don't want to spoil it for anyone who has not completed the series. With that in mind, bear with my vague review.
The battle scenes were well developed. It felt like I was watching a movie. I'm not sure how she did it, but the battles managed to be detailed without being boring.
With my partner beside me, I fear nothing, not even death.
Thank you, Ann Aguirre, for giving us such a fantastic story.
Book Info
Goodreads | Amazon | Barnes & Noble
Point of View: First person POV, Deuce
Length: 422 pages
Price: $7.12 on Amazon
Completed Series
Foundation (Razorland, #0.5) 2 of 5 stars
Enclave (Razorland, #1) 4 of 5 stars
Endurance (Razorland, #1.5) 4 of 5 stars
Outpost (Razorland, #2) 4 of 5 stars
Restoration (Razorland, #2.5)
Horde (Razorland, #3) 5 of 5 stars