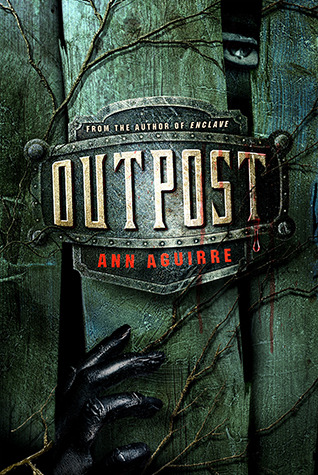 Outpost
by Ann Aguirre


4 of 5 stars
Deuce's whole world has changed.

Down below, she was considered an adult. Now, topside in a town called Salvation, she's a brat in need of training in the eyes of the townsfolk. She doesn't fit in with the other girls: Deuce only knows how to fight.

To make matters worse, her Hunter partner, Fade, keeps Deuce at a distance. Her feelings for Fade haven't changed, but he seems not to want her around anymore. Confused and lonely, she starts looking for a way out.

Deuce signs up to serve in the summer patrols—those who make sure the planters can work the fields without danger. It should be routine, but things have been changing on the surface, just as they did below ground. The Freaks have grown smarter. They're watching. Waiting. Planning. The monsters don't intend to let Salvation survive, and it may take a girl like Deuce to turn back the tide.
Main Characters
Deuce: Part of a tribe of survivors living underground in subway tunnels. She is a Huntress, 15 years old, and considered an adult since everyone dies in their early 20s. A very skilled fighter.
Fade: Born topside and came underground after the death of his father. He became nearly feral, trying to survive alone for years. Hunters found him and brought him to the Enclave.
Review
Watching Deuce learn about the world was interesting. Watching people's reactions to her was even better. They don't realize it, but Deuce, Fade and Stalker are the best things that ever happen to Salvation. They know what the world is like outside of the walls. They know what is important.
People grew lazy. They knew too many blessings, and so lost the ability to appreciate what they had.
Longshot is just what Deuce needed. He helped her to understand the world around her.
I sighed. 'It's hard. You're the only one who listens to what I have to say.' Longshot dropped a gentle, comforting arm around my shoulders. 'Then speak louder, girl. Don't let them put out your spark.
As with all of her books that I have read so far, Outpost is well edited and polished. There were zero inconsistencies in the storyline that I could find. It was neat seeing how Salvation functioned and the detail about their survival plans was perfect.
Deuce tries to stick with what she know, while still trying to fit in enough that she doesn't drive everyone crazy.
Love sounded terrible if it made you so weak, you couldn't survive with out it.
Book Info
Goodreads | Amazon | Barnes & Noble
Point of View: First person POV, Deuce
Length: 332 pages
Price: $7.12 on Amazon
Completed Series
Foundation (Razorland, #0.5) 2 of 5 stars
Enclave (Razorland, #1) 4 of 5 stars
Endurance (Razorland, #1.5) 4 of 5 stars
Outpost (Razorland, #2) 4 of 5 stars
Restoration (Razorland, #2.5)
Horde (Razorland, #3) 5 of 5 stars